About two months before the end of exams, I was faced with another big decision: Do I travel in Europe despite everything that's going on, or do I go home? Not all borders were closed, and only some countries had implemented mandatory 14-day quarantines to travelers. In my opinion, it would be possible to do some limited travelling during the summer. A lot of places that I wanted to go visit are closed right now, but it all might change in just a few months, maybe countries will reopen in July or something — Or, I just go home.
Of course, if I do decide to travel, I'm literally helping spread the virus one way or another. Transportation, hostels, restaurants, all can be ways that I could spread the virus. I should be a responsible global citizen and just keep the travelling for another time. It sucks, but right now is really not a good time to travel. Might as well save my money for another time when I could have a better experience.
Ok, I'm going home. Now for the how. Flights are still operating, (I was never stuck in Manchester, really) but they are expensive and have a very small selection. Alas, I found one; Manchester-Dublin-Toronto. Getting from Toronto to Ottawa was the least of my concerns right now, so I'll deal with that later — may that be a flight, train, bus or pick up from parents, it's a decision for another time (turns out, a flight was the simplest option).
It took a few weeks for the fact to sink in that I was going home. I planned out everything I needed to do before leaving; return my bike, buy some snacks to bring back, clean the flat, and decide for every item in the flat if it was coming with me or not.
Knowing that your life is about to change drastically in a day to day countdown is quite an interesting feeling. It wasn't the same as the feeling I got when I left for Manchester because I didn't know what to expect then. Now, I know what my home looks like, what stuff I have there and the people that will greet me when I arrive.
My flight left Manchester at 8am, with all the subtractions, that makes my wake up time around 4am. Since I usually go to bed around that time, I'll have to completely switch my sleep schedule around in a couple days. Or… Simply stay awake the second night before my departure and go to sleep early the night right before leaving. And that's exactly what I did, kind of. After eating my ceremonial last dinner (which was a box of KD), and before going to bed at 6pm, I decide to check my flight status, just to make sure. "That's weird. Why isn't my flight there? Let me search the flight number again… Still? Nothing?" *heart starts panicking* I decide to call the airline to ask what is going on, and sure enough, it's cancelled.
"Now the fun begins" I thought. Here's all my plans to go home, now throw them out the window; it's time to improvise. I call some of my family and friends to let them know of the "slight change of plans". Thankfully, I found a flight from London to Toronto tomorrow at noon. After some time calculations and planning, I'll be able to make it, if I take the first train out of Manchester at 5:50am, arrive in London at 8, and hurry through the London Underground to Heathrow airport. Google Maps says an hour from the train station to the airport, I'll say an hour and a half, so that makes 9:30am at the airport for a flight at noon? That's doable, if everything works.
With all the calling, planning and booking, it was getting further and further away from my planned bedtime, which meant less sleep before my 23-hour journey.
The alarm rings at 3:40am. I spring up on my bed, fully awake; "I'm going home today!" I eat breakfast, do any last-minute packing, take out the trash, say my goodbyes to my flat and head out the door. According to the bus schedule on my phone, it arrives in 15 minutes. Just enough time to drop off my keys and walk to the bus stop. While waiting for the bus, I realize that this schedule might be pre-lockdown, so there is a possibility of the bus simply not showing up. Thankfully, I left enough time before the train departure to walk/run to the train station from my residence. I decide to do the classic walk-from-bus-stop-to-bus-stop-in-case-the-bus-doesn't-show-up trick. It's a very quiet morning, with very few birds chirping away, and I hear in the distance the distinctive sound of a bus. I turn back, wait two seconds, and there it is. It is time to put my mask on. The bus is almost empty, with only a couple people getting on or off the bus on the way to the city centre.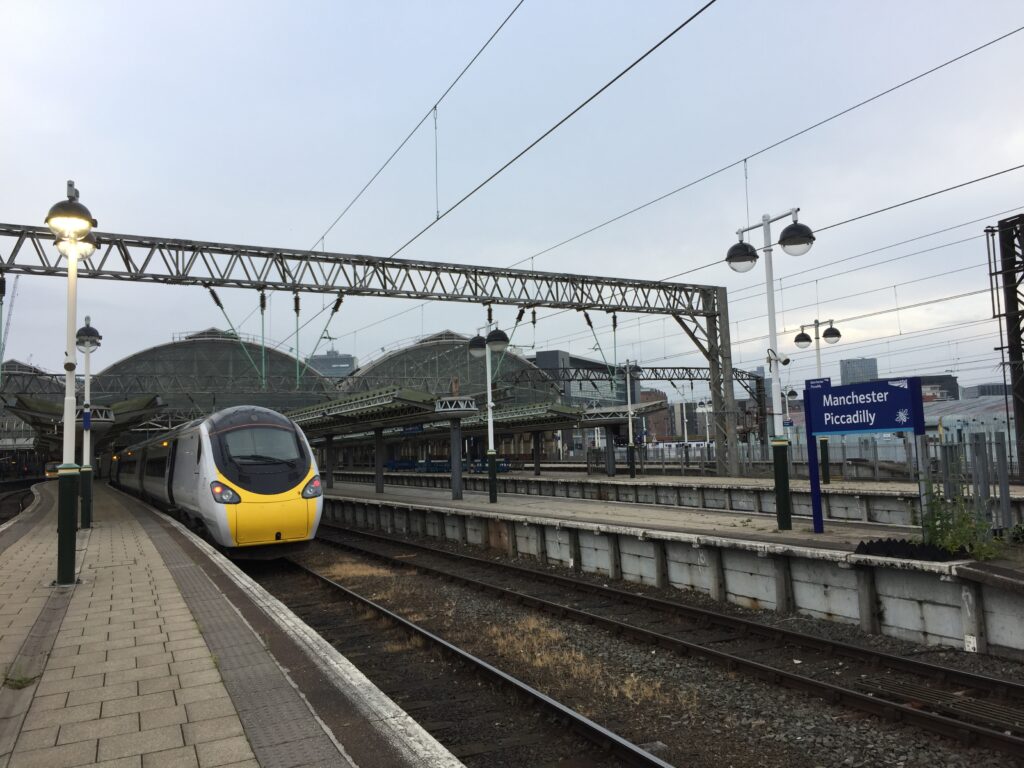 The train station is quite empty, with only a handful of people waiting to grab a train. Barriers form lanes for people to walk in one-way directions to maximize space between everyone. I notice dots on the ground evenly spaced 2m apart on the ground with the markings "Save the NHS [National Health Service], save lives". I get on the train, and there's about 5 other passengers, on this 11-car train. As the train leaves the station, I snap one last picture of the Manchester city skyline.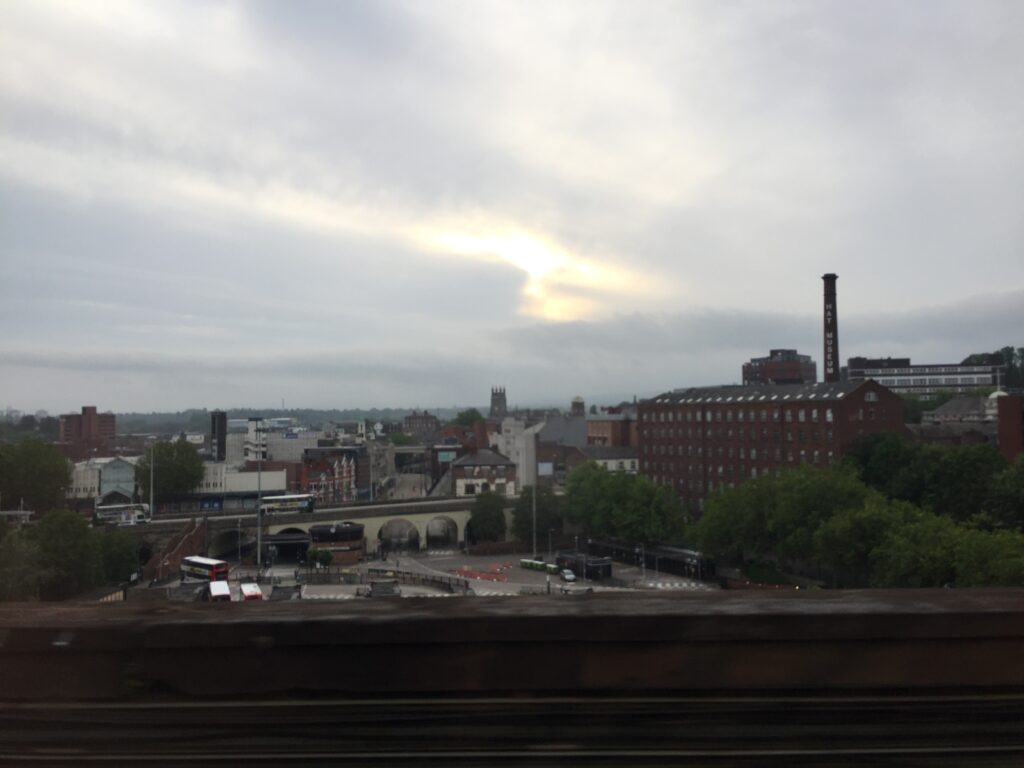 The lack of sleep starts to hit me, but I take the time to appreciate the English countryside this foggy morning. I'll have time to sleep on the plane. As the train plows through the land, I notice that the train car tilts when in negotiates a curve. "That's odd." I feel like nothing changes, but I can see the horizon go up or down in the train window. My inner ear and eyes seem to disagree on my orientation, even if it's just for a few degrees of rotation around the y-axis.
I double and triple-check my route through the underground from Victoria train station to Heathrow. Take this line to that stop, then switch to this line all the way down to the airport. Got it. If all goes well, I should arrive 2.5 hours before my departure.
I notice that the markers on the ground for reminding about physical distancing have a different slogan: Stay safe, leave a space
As I arrive to one of the busiest airports in the world, I notice one major thing: It's nearly empty. I only see a handful of people checking in at the various kiosks of terminal 4. Markers are everywhere on the ground, and signs remind everyone to stay apart and wear a face covering at all times. I check-in and go through security, walk to my gate and check my watch; 15 minutes have elapsed since I arrived at the airport. "Wow, that was fast. Guess I didn't need 2 hours!" None of the shops are open. Only a small duty-free convenience store is open in my terminal area, everything else is boarded up. I take some time to eat a sandwich before heading back to my gate.
As I approach my gate, the first (and only) boarding call is made. "Just like clockwork" I think to myself. Before lining up to check my temperature and board the plane, I snap a quick picture of my plane: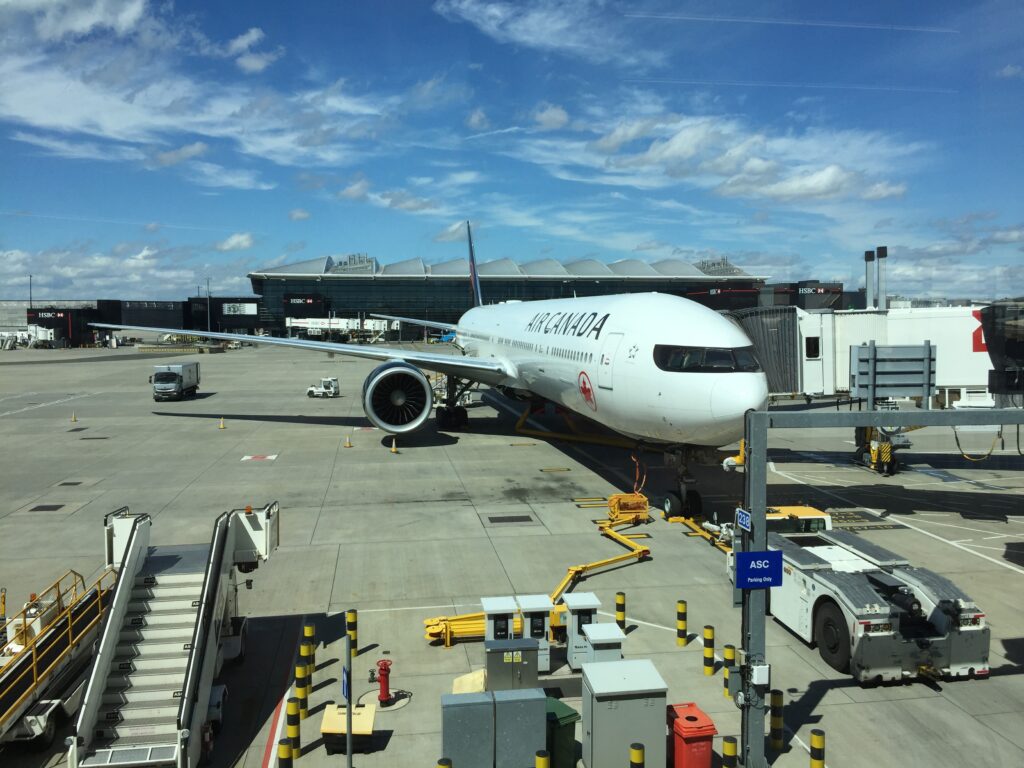 As I enter the plane, I notice the flight attendants are wearing white scrubs on top of their uniform, and give everyone a care package that includes a mask, gloves, a water bottle, some hand sanitizer and some disinfectant wipes. We're informed to keep our face coverings on at all times inside the plane and that it was disinfected beforehand.
The plane itself was also quite empty. (I had the entire row of seats to myself, it was great for naptime) Only the window seats and the isle seats of the middle section could be booked. Behold, my top-notch explanation:
| x – – x – – x – – x | x = bookable seat
I find it surprising how much light can be prevented from coming inside the cabin. My flight to the UK was an overnight one, but this one is during the day, and yet, the cabin is kept fairly dark (with the window shutters closed). I decide to look outside to see the landscape slowly crawl underneath me, and I'm immediately blinded by the sunlight reflected off the clouds underneath the plane. I close the shutter and think "Ok, I'm blind. I can't see anything, this is pretty cool" After my eyes readjust to the interior lighting, I decide to have a bit of fun and open the shutter, but this time with one eye closed. Looking back in the dark plane with my eyes adjusted to different light levels is really neat. (I highly suggest you try this, it's wierd)
Just before landing, I look out the window (didn't get blinded this time) and see downtown Toronto and its iconic CN Tower; that's when it hit me; I'm back in Canada. Not quite home yet, but in Canada.
Arriving in Toronto is essentially the same as London; empty and everything closed: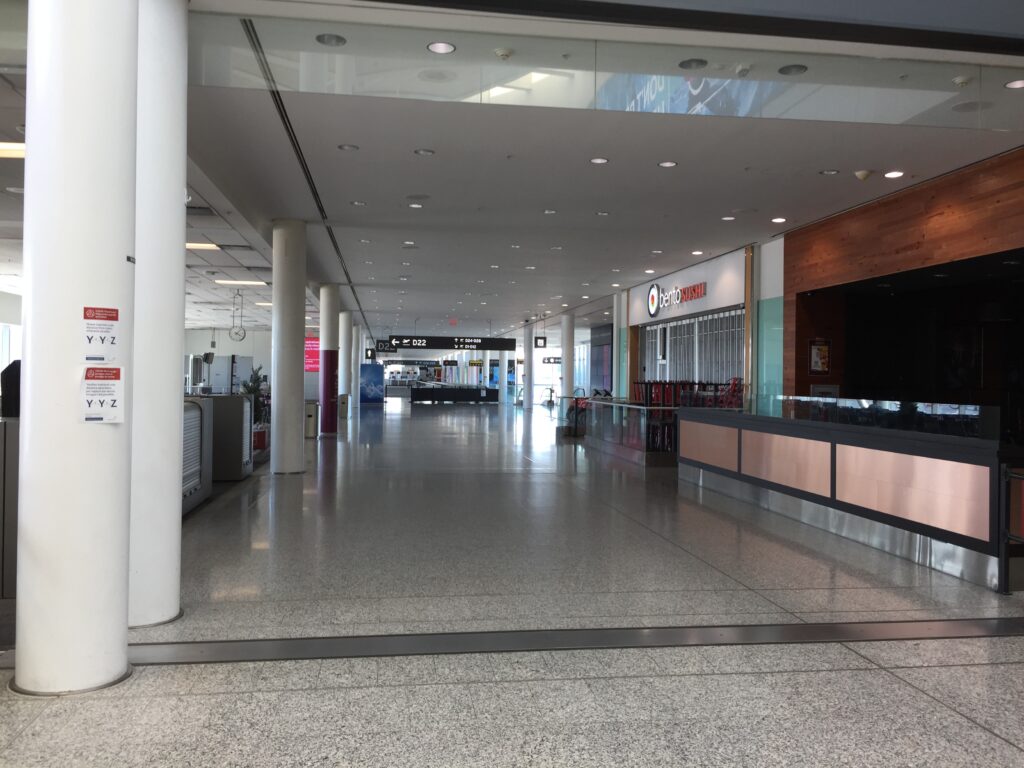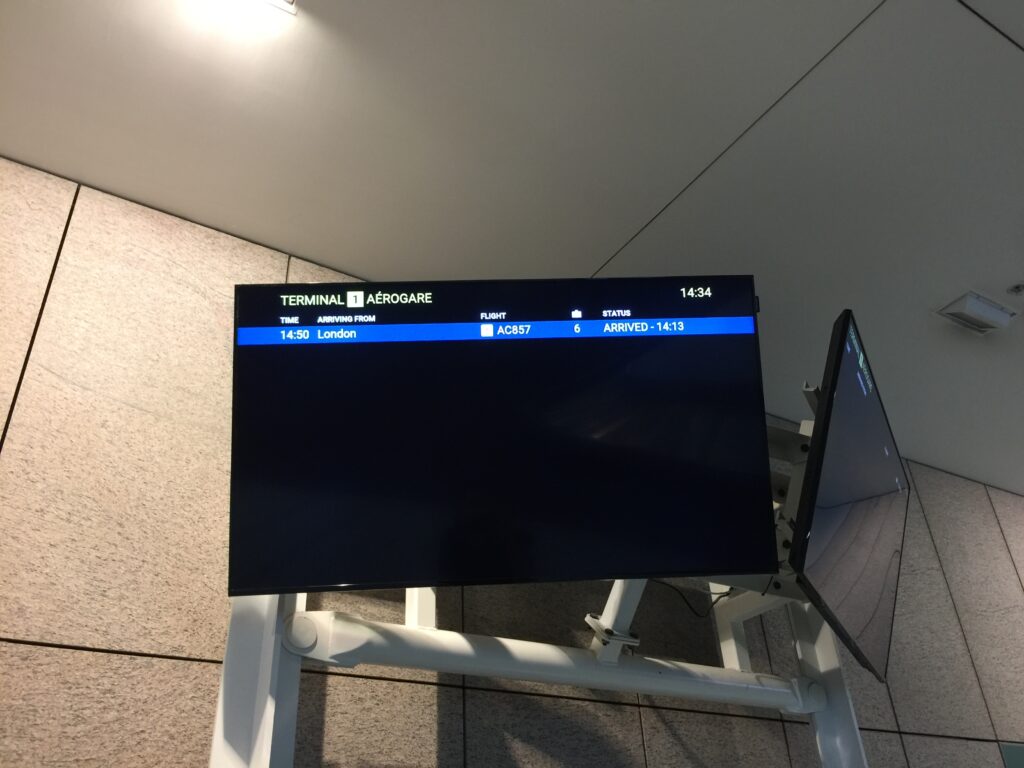 The last big step; going through customs. I feel rather nervous, I'm expecting a rather long list of questions to answer pertaining to my whereabouts during my mandatory 14-day quarantine. Will I be able to fly to Ottawa? Am I going to have to stay in Toronto in one of those "quarantine facilities"? My mind is racing as I ride along the horizontal-walking-escalator things that airports have. A customs agent asks everyone to fill out a form with information about where we will be staying for the next two weeks. I try to keep my distance from other travelers, but it seems like I'm the only one since people crowd around tables to fill out the form (which seems ironic in a way). I proceed to the actual customs where the agent asks me:
Where are you headed?
Ottawa
Are you aware of the mandatory 14-day quarantine?
Yes
Alright then, have a good day!
Wow, that's it? That was fast! On my way out, they ask me to drop off my form in the super high tech container by the exit; a carboard box.
My flight to Ottawa was about the same, around a dozen people in the plane, but this one was new. Brand new. It even had the new plane smell, which is a thing apparently. I can't help but feel bad for Air Canada; a brand new fleet of planes right before such a huge decrease in demand. It's going to take years for the air travel industry to recover from this.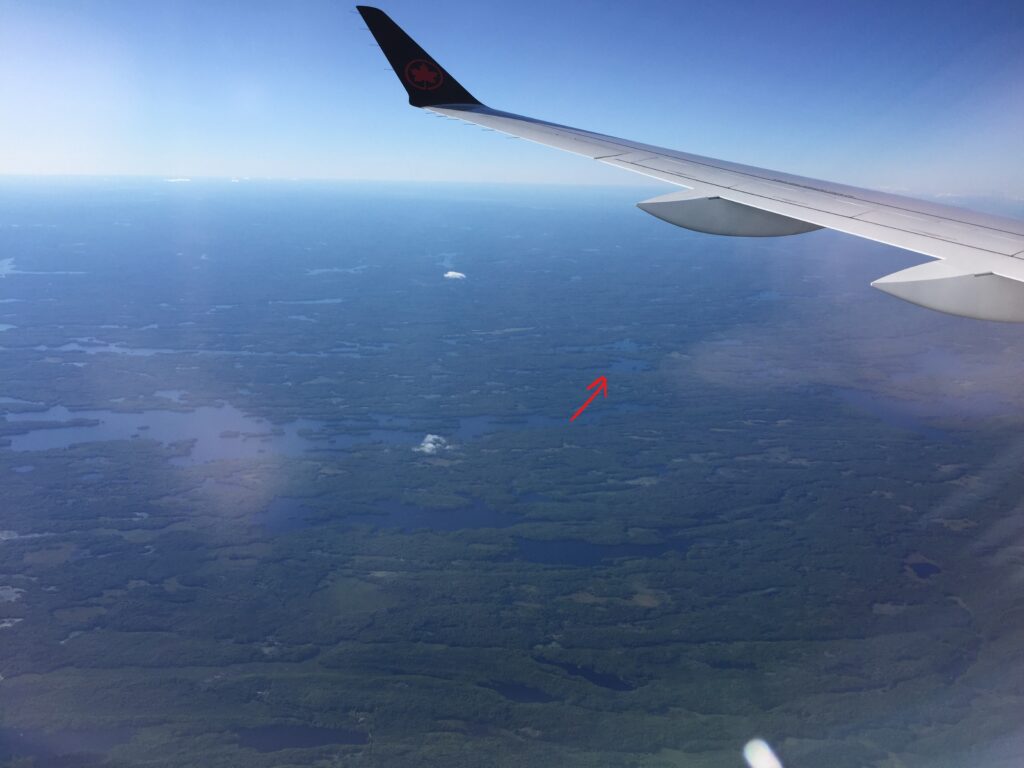 Throughout my flight, there's something in the back of my mind saying "I'm on the wrong plane, I'm not headed to Ottawa, no way." Hunh, look at that, I'm strait up in denial, that's funny. But when the plane approaches my hometown, I notice the Canadian Tire Centre (that's where the Ottawa Senators play hockey), which is a fairly unique building that pops out of the landscape, it finally clicks: I'm in Ottawa. I am home.
Boy was I ever glad to see my parents in person again and give them a big hug. And my dog, I was happy to see him too (and so was he). Some Indian food and a good night's rest later, I was back. Though my official return was the weekend after my quarantine ended when I went canoe camping with my dad: truly a Canadian return.
Looking back, I'm glad I had my experience— and would gladly do it again. I was fortunate enough to have this very unique experience that I could look back to in the future: In 2020, I was alone, in another country, doing my international exchange, during a global pandemic. How many people can say that did that?!
I know this blogpost is a couple months overdue, I've been procrastinating it for quite a while, but thanks to the notes I took during my travels, my experience got somewhat recorded and didn't get lost to time. It's been a pleasure sharing my experience with future me and the world, cheers.