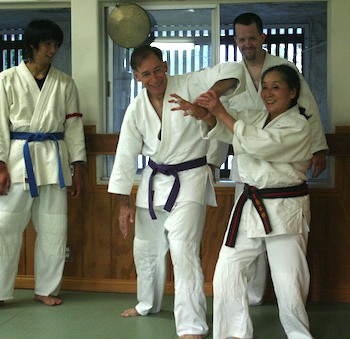 Kaoru Sugiyama Sensei (far right)
Yoseicamp 2009 (August 2009, Torrance, California)
Aikido was developed by Morihei Ueshiba, in Japan. It was a result of his study of Daito-Ryu Jujitsu through Sokaku Takeda, as well as many other classical martial arts of his youth, with some spiritual influence from the Omoto philosophies of Onisaburo Deguchi.
I study Yoseikan Budo, a martial art developed by Minoru Mochizuki, one of the first generation of students of Ueshiba O-Sensei. Mochizuki Sensei studied Judo at Jigoro Kano's Kodokan, and was sent by Kano Sensei, while part of a research group, to study Aikido with Ueshiba O-Sensei, at a time when it was called Aikibujutsu. He also studied Shotokan Karate, Katori Shinto Ryu and Iaido, among others. Yoseikan Budo came about as a combination of these various arts, and various elements from each art are found in the practice of each other, with the majority of the curriculum based on Aikido. Mochizuki Sensei travelled to Europe and taught in France in 1951, and so was the first to introduce Aikido in the West.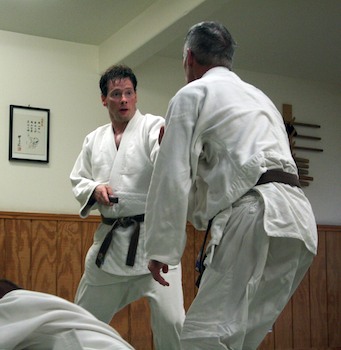 Yoseicamp 2009 (August 2009, Torrance, California)
He sent Patrick Augé to teach Yoseikan Budo in North America. Augé Sensei had grown up in France, training in competitive judo. He travelled to Japan and lived seven years in Shizuoka, studing Yoseikan Budo under Mochizuki Sensei. His view of the martial arts changed considerably. In 1976, he and his wife, Kaoru Sugiyama moved to Montreal, Quebec, and then started clubs in the Ottawa-Gatineau region. The first classes were held at the Collège de l'Outaouais in September 1977. They opened the University of Ottawa and RA Centre clubs before a dedicated Dojo was built. Aikido, Judo and Karate training was offered. Augé Sensei was appointed Technical Director of the Canadian Yoseikan Budo Association (CYBA) by Mochizuki Sensei. Since then, the CYBA changed its name to the International Yoseikan Budo Federation (IYBF). Augé Sensei now teaches in Torrance, California. He regularly conducts clinics in the Ottawa-Gatineau region, as well as in Granby, Quebec and Shelby, North Carolina. He returns to Japan regularly since he moved to North America.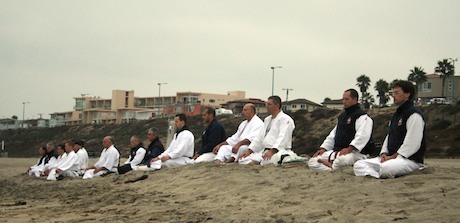 Yoseicamp 2009 (August 2009, Torrance, California)
I train in Ottawa, Canada and Gatineau, Quebec with Rheaume Laliberté Sensei. I started training in Aikido in January 1992 at the University of Ottawa. When Augé Sensei moved to California, he left the responsibility of the main dojo in Ottawa to a group of his most senior students. I now teach Aikido at the University of Ottawa. IYBF Aikido can also be found in Gatineau (Rhéaume Laliberté), Granby (Bernard Monast), and in the U.S. in Austin, Texas (David Gregg), Shelby, North Carolina (Yves Boudreau) and Torrance, California (Augé Sensei) as well as at Yale University (Steve Varley).
Visit the IYBF's website for more details.